Last week when I posted my
China cabinet re-do
I got a couple questions on the process, what I used, etc.
Disclaimer* I do not claim to be a pro at painting furniture at all, and I haven't painted a lot of furniture,
but what I have painted has turned out pretty good, and if I can do it anyone can.
Some things you need are:
1.Primer
I think most projects will need a primer. My cabinet was dark and I wanted it light so I needed one. I used this primer, Bin. It's a really good one but it is smelly! It says on the container to paint in a well-ventilated area. Please be sure to do that and keep your kiddos away while you are painting. You wouldn't want them breathing those fumes.
2. Paint
Pick the color(s) you want then decide what kind of finish you want- flat, eggshell, satin, semi-gloss or glossy. For my cabinet I used high gloss on the inside and satin on the outside.
3. Paint brushes
For a project that has a lot of small corners a paint brush with a tapered edge works really well. It gets into the corners nicely. I wouldn't get the cheapest brush you can find, it will leave streaks or brush marks in the paint. You wouldn't want that if you are putting all that time into a project.
If you are painting something that has a lot of flat surface, like a table, a paint roller would be a good choice.
I use a small 6" roller or "hot dog" roller that looks like this
All images were found on Google
If using a roller, you'll need a pan to pour the paint in too.
Some other things you will need are:
~a drop cloth,
~painters tape & paper if you are going to need to protect a glass door or something like that
~tools to remove any hardware from your furniture.
I think that's about it. Like I said, I'm no pro & I might not know the correct lingo but I think this might help if you are looking to paint a piece of furniture. If you have any questions feel free to ask!
On a side note, I filled up my Etsy shops with a lot of new things and I'd love it if you stopped by to take a look!
From
PGoodys
Fabulous vintage tea towels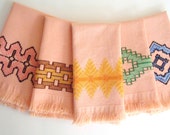 Some fun fringe infinity scarves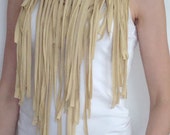 Beautiful cross bracelets & elastic hair ties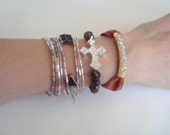 From
PGoodysMini
This one-of-a-kind St. Patty's day dress size 3T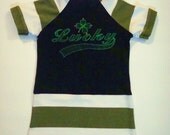 Some lace leggings for your little girl, perfect for easter!